CCP has apparently decided to focus the summer release on industry. Certainly this is an area of the game that needs work, so that is good. I do think it's brave in the sense that few players do industry, and so they probably won't get the income bounce they normally get for new releases. No one is going to resubscribe to look at a pretty UI that they don't use. I expect there to be at least a few new gee-whiz features unrelated to industry to try to draw resubscribers back.
In any case, I have seen quite a lot of complaining about it from industrialists, even to the point of threatening to unsubscribe. I find this ludicrous, at this point anyway. And here is why. The basis of much of the complaining is that people want to do their industry in highsec, and they believe they are being "forced" out to null. But so far as we know, this is not true. What is true is that industry "slots" are going away; instead there will be surcharges at busy stations. The surcharges are from 0-14%: "
Expect costs ranging from 0% to 14% of the base item being produced for the most extreme case.
" (emphasis theirs).
People seem to be looking at the high end 14%, the "most extreme case", thinking that's general, and panicking. But this is crazy. We know from the quote above that 0% will be a thing. What we don't know yet is where the #jobs N where will draw the line between 0% and 1%. And then also (though less interesting), other lines from 1 to 2%, and on up. But in any case, I think it is pretty safe to assume that N is going to be, at least, a small integer. (If it's not, then I must revise this opinion. Expect me to revisit the subject when it is announced.)
The current behavior is 50 slots and then a queue; it seems reasonable to me to scale the 0 to 14% over that range, so that there are perhaps 5 jobs per 1% of surcharge. So I am going to make a wild guess that the crowdedness cost will be 0% for zero to four jobs, 1% for five to nine, etc., capped at 14. Where exactly these percentages are does not matter that much; what matters is only just that there are, say, four jobs per station at 0%, nine jobs per station at 1%, and then (less so) for more crowdedness. I take it as given that more than a few percent of surcharge is not sustainable for most industry, whereas zero percent definitely is, and 1% is probably. 2% maybe.
You didn't choose me.
So the question here is: are there currently enough empty slots in highsec such that after the summer release, we can still do all the industry there, and competitively? And I think the answer is pretty clearly "yes". There are completely unused stations, right now, even in the Forge. I went and looked: the nearest one to Jita -- with zero jobs -- is in Obe. Obe is eight jumps from Jita. OK, that's lowsec. So, how about the nearest
highsec
station in the Forge, with zero jobs installed It's in Uchosi, 10 jumps out. There are many stations with only one to four jobs.
I feel confident that The Forge does the most industry in New Eden, due to the presence of Jita. Remember the dev blog posting
Insights into 2013 Production and Destruction
. See the picture, and notice all the tiny circles that are blue and green. There are more of them than there are large or even medium blue and green circles.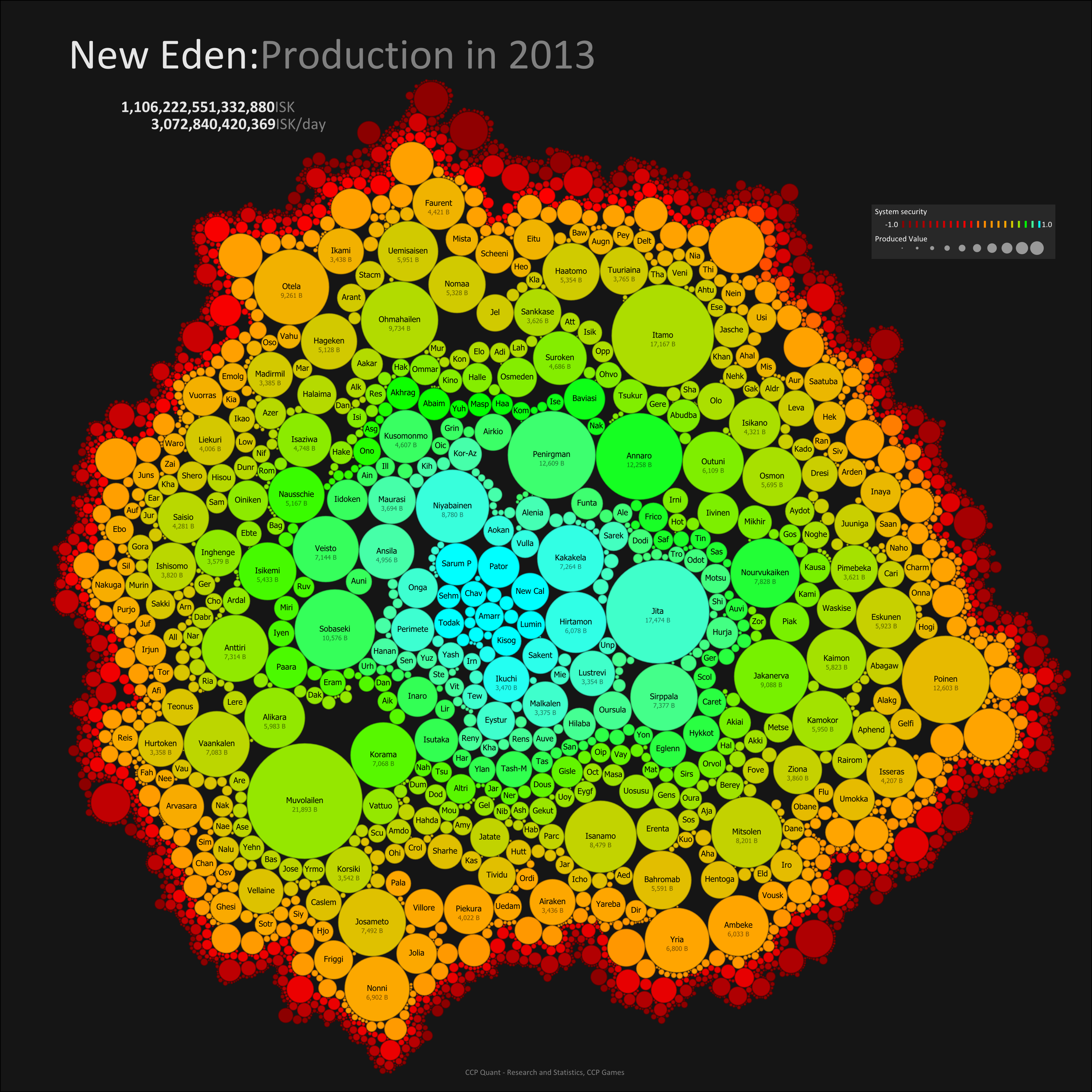 Production.
There are currently a lot of empty slots out there; probably more empty ones than filled. Enough for everyone, especially after a substantial amount of the competition moves to POSes or to null.
So, don't panic manufacturers. There will be plenty of room for profit. What we are seeing here is not the evil Nullsec Cartel taking your profit for themselves. We are seeing a leveling of the playing field, so that manufacturing can be done in nullsec and reasonably compete with highsec. You are losing your massive cost advantage, but you are not being made uncompetitive.
That said, there will be some manufacturers that will be better off moving to null, and some better off staying in highsec. This will be a function of transportation cost. Mynnna, though not doing much in his
recent blog post
to quench the alarm of his critics (
here's my comment
), did have some useful numbers there on the transportation costs faced by nullsec: "30k isotopes per round trip". Isotopes cost between 700 and 1000 ISK right now, depending on type. And CCP is going to
increase fuel requirement for jumping by 50%
. So, using a lower end isotope price, we predict transport costs of about 30m ISK for a round trip for a jump freighter. That is a few percent for anything but a very low value load. (To be fair, we must factor in other costs: the capital cost of a jump freighter is one. The effective cost of losses to gank is another. Opportunity cost is also worth mentioning. These are impossible to know.) In any case, the point is that transport costs are significantly higher to and from nullsec than in highsec. Also, there is a balance factor preventing too much industry from moving to null: fuel costs will rise with demand. In highsec, you can autopilot a billion ISK in substantial safety with no fuel cost at all.
So, what we can see is that to the extent nullsec does have a cost advantage in manufacturing proper, industry should be done there first for the things with high value:volume, then decreasingly for things with lower value:volume. The very largest yet low value things, for example T1 ship hulls, will be manufactured in highsec because of the transportation cost advantage. Small, high value stuff, for example most T2 ship parts, will probably move to null. Medium sized stuff will be where the breakeven point is, and might be done in both regions.